DISCLAIMER: This web blog is the ORIGINAL SOURCE FOR INFORMATION REGARDING VAN LOON COMMONS and the result of extensive research and analysis conducted by the domain owner and writer, AND is not sanctioned by the current BOD at Van Loon Commons Condos (nor would it be of any value if they sanctioned it)   The author is an pre-construction owner who is invested for the long term and will likely be an owner long past the current BOD members.
Another example of how the Board treats some owners: james-hutton-2017-candidate-statement    You may not see Jim in the election in January as there may not be one… though it is possible there may be one in February.
Many of us can understand why 2 more original owners have their units listed for sale at present for 60k to 70k less than they paid in 2006.  One of those who listed were members of the small clique that has formed since 2013 and helped to support the Board in whatever they did.  Until now.   We've been told by another owner that their departing was related to the Board trying to vote in a rule that would super-cede our condo docs (pets – the more the merrier)   We don't know for sure nor care.
To date this year, at least 4 other owners already sold for 100k less than they paid and we've heard the Board has voted to go after either one new owner or the sellers, who didn't go through their "approval process" for the sale.  Welcome to Van Loon!
The fines were capped at $1,000 in total but the attorney fees are not.  They will be paid either way, definitely by Van Loon and then if they can recover them, maybe repaid.  Good luck Van Loon on recovering form either an out of state seller (we bet no way) or from the "innocent" party, who bought unknowingly.  Oh well, we aren't as educated  the attorneys so why have any opinions.
Many have believed that Van Loon should be negotiating different rates for different types of legal work and paying one set hourly rate is overpaying. One example  is the last charge we saw for the required Estoppel letter for a closing was at $350, to sign off on the account statement prepared by Associa's accounting department, (Then again, with our account being incorrect, maybe that's a bargain!)
Below is a picture of our "swale" grasses taken May 2014. These swales were planted in 2009 and had been approved by the City of Cape Coral.  Several Board members and their friends complained about their appearance in 2014 and in 2015 and the Board had them removed and replaced with sod.  The Board sent a newsletter claiming had been illegal when planted and that the removal was ordered by the City.  Since we were present when the City had them planted and we LIKED their appearance and the "habitat" they created, we contacted the City twice and spoke with Zoning, Planning and the Horticulturist. The City had no record of ordering their removal nor contacting the Board.  We sent an email to the Board inquiring how this was communicated to them.  No response.  Transparent?
While we cannot say with 100% certainty, it seems one unfortunate result of removing them and installing sod was an effect to the ecosystem of Van Loon.  For the first time in 10 years, we have had major infestations of cockroaches and other insects despite using Bugs R Us exterminator services two times, 4 weeks apart; treating our drains and leaving insect traps all over.  The swales used to contain hundreds or maybe thousands of frogs, whose presence was only known during rain. The Board spoke of rats and snakes being in the swales as a reason to remove also. In 10 years here, we have seen 1 harmless black snake sunning by our ELEVATOR during May, a time when Van Loon is nearly empty.   We hope our most recent extermination treatment stops the invasion.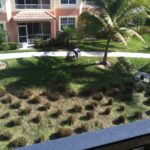 Stay tuned……….We cannot let the attorneys bill everything in one week.  Who would imagine that anyone could charge for 2 hours at $350-$375 an hour to read a Disclaimer on a Blog? ( I would if I could get that work! )   Or a Board that finds it okay to literally spy on owners, calling it security.